Our CORE Mission
To feel good- inside and out.

Welcome to Pilates HeartcoreTM!  We offer Pilates, springboard and circuit classes in an intimate training setting.  Our aim is to create a community focused on identifying goals, consistent growth and long term change.  We are not a gym.  We do not look or smell like a gym.  But we will work your body hard and help you bridge the divide between the life you want to lead and knowing how to live it.
You don't have to be fit to start with us.  You can be out of shape.  Maybe you just had a baby.  You could be a runner who is constantly tight.  You could be feeling stiff and older than your years.  You could have an office job that is wrecking your body.  Pilates Heartcore is a place for people who are determined to improve their fitness and wellness.  We provide instruction based on your personal goals and commitment, but we strive to form one strong community.
Pilates using the Reformer or Exo chair can look scary and intimidating.  Don't worry!  It's super fun and feels less like exercise and more like play.  Plus it lengthens, tones, stretches and levels you out like nothing else.  If you have never tried it, we challenge you to experience why some many people are hooked!
Our Philosophy
We believe that Strength- in mind, body and spirit- takes time.  It takes self-discipline and a commitment to showing up regularly.  We will be there with you to make sure you push yourself every time.  Just get here and the rest, we will do together.
We believe we are all unique- and what works for your friend may not work for you.  Pilates is about the mind and body connection and each person's journey will be different.  We will help you discover more about yourself and what you are capable of achieving.  Our stories are all different but we all start at the same place.
Pilates is not a fad.  We are not a quick fix.  If you are looking for an easy solution to your health and fitness, we are not it.  We are not a 6 week cleanse- drop 20 pounds program.  We believe (and have seen the results in our own bodies and clients' bodies) that true strength and fitness require a strong foundation.  We believe in the Pilates Principles.  We believe steady progress takes you to the best version of you.  It's not about killing yourself so you can't move the next day, but about challenging your body regularly to be fit enough to better enjoy your life.
Pilates HeartcoreTM is here for YOU.  When you become part of our community, you belong.  We are a team and we believe in you, your goals and we will listen to your needs.  We are not here to stand at the front of the room and yell at you to do one more set.  We are by your side, assisting you through a move, offering modifications, counting you down, laughing with you and dedicating ourselves to your success.
We are serious about your body.  Pilates HeartcoreTM operates on a closed class philosophy for Reformer/apparatus classes. You must first take the Intro to Reformer class prior to any group class registrations utilizing the Reformer.  This is not to exclude anyone, but rather to inclusively ensure that you are armed with knowledge to be successful when you do start taking Reformer classes.  We also highly recommend a one on one session with us prior to taking any classes so we can get to know you.  We WANT to know you!
So, do you want to feel better, look better, be calmer and live life with purpose?  We welcome you! Check out our schedule and offerings and let us know if you have any questions!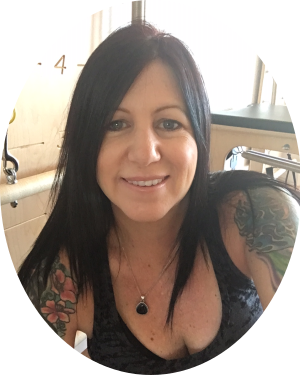 Katie Prior
Owner & Instructor
Katie spent 24 years in Sales positions sitting at a desk. She has always been an avid fitness goer- spending many hours logged at the gym doing kickboxing, strength training, Zumba, cycle classes and yoga. Pilates came to her at a time when she was dealing with chronic back pain and a general tightness and inflexibility of her body. This pain was directly related to her posture from being a desk worker.
Even with all the exercise, massage and physical therapy she was doing, something wasn't working. After discovering Pilates and committing herself to 3 sessions a week, she was rewarded with a new way to feel good in her body and to be pain free. This personal experience opened her eyes to the sincere benefits of Pilates. It became her desire to help other people feel as good as she feels. Katie decided to go through the Balanced Body comprehensive Pilates Instructor certification program. In 2016 she got up the nerve to quit her full time job to open a home studio. In 2017 she opened the retail studio and hired more instructors to help her share Pilates with Sacramento!
As a mother of two young , full of energy boys, she understands how important a strong and healthy body is to your happiness and ability to succeed in all aspects of your life. And on top of all the benefits of Pilates, it's FUN! The part she likes most about it is that it doesn't feel like a typical boring, same thing every time, drag yourself to get it over with work out.
Classes with Katie are never the same routine and she will always make sure you leave feeling stronger, calmer and more connected to your body than when you walked in. So come "get heartcore" and see why Pilates done in a fun and friendly studio where we don't take ourselves too seriously will become a sweet addiction you can't get enough of.
Lyndsie Ross
Instructor
Lyndsie spent years working out, and really, working against her own body's nature. Once she found Pilates, it just clicked and she knew this was what her body actually needed after years of the war she had raged upon her joints and muscles with other forms of exercise.
While immersing herself in Pilates through her first few years at Balanced Body as a designer, it really began to transform the way she sat, stood and moved, and helped her find comfort in her own form that she hadn't really had before. Fast forward 3 years, she decided to take an instructor training course to better understand how the manuals she was designing were being used. From her first time teaching another student in the course it was obvious that teaching came naturally to her, and was the next step in her Pilates journey.
Lyndsie teaches because she wants to bring this modality to more people like herself. Identifying as queer she feels she understands the struggle to love yourself and your body. She wants other people to know that you don't have to have a certain type of body to do Pilates. She brings the knowledge and experience of what it's like to use this modality while living in a bigger body, and how it can truly make anyone's life better. She approaches teaching in a functional sense, using movement to improve her clients' daily lives.
A perky goth kid at heart, Lyndsie shares Katie's affinity for a mostly black wardrobe and body mods that are ever expanding. With 4 dogs at home and an overly full social life you'll find Lyndsie zoned out to her favorite Netflix shows on the couch with her pups on her days off, playing really complicated board games or meal prepping a mountain of gluten free foods.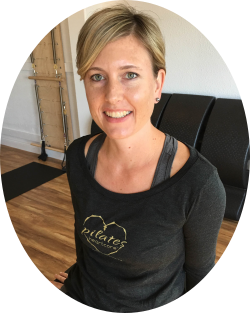 Emily Rose
Instructor
Emily knows bodies. For almost 20 years she has been working as a certified massage therapist, massage clinic supervisor and curriculum creator both here locally and in the Bay Area. She is also a devoted runner and can be found pounding the pavement most mornings in Fair Oaks. Her career and personal passion is alleviating chronic pain, anxiety and reducing stress in her clients through her knowledge of massage techniques, anatomy, reflexology and body mechanics.
She became interested in pursuing a path to becoming a Pilates instructor 3 years ago. Since Pilates focuses so much on the alignment and muscular dynamics of a body, it has an amazing synergy to her already vast knowledge of how the body works. Emily is Balanced Body certified and even with this goal attained, it has just intensified her desire to help others through movement.
Emily comes to Pilates Heartcore as a sweet addition to our already fantastic and diverse group of trainers. Her calm demeanor and soft voice give her classes a very relaxing feeling. But don't be fooled by her mellow ways- Emily knows how to deliver a kick-butt and challenging class! She may look and sound nice but one class with her and you'll know she's here to deliver results.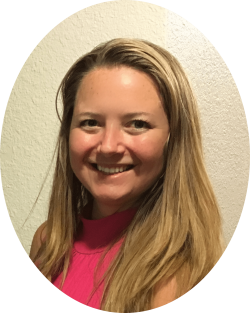 Heather Michele Williams
Instructor
Heather Michele Williams is a Comprehensive Pilates Instructor certified with Body, Arts, and Science International (BASI). She discovered the magic of Pilates through the recovery of a failed spinal fusion surgery and decided to turn this passion into a career of learning and sharing it with others.
Sparked by this passion, in 2011 Heather quit her desk job and downsized to a backpack to travel the world and learn. She has traveled to 22 countries, and lived in 3 different countries in South America and Asia. She studied energy work in Thailand and Indonesia and also became a Certified Yoga Instructor at Yoga Vidya Gurukul in India. She is a perpetual student of all things movement and mindfulness and has trained in a form of muscle and fascia release exercise method called Hanna Somatics, that she incorporates into her classes.
She is currently training with the creators of Primal Movement Works to become certified in Primal Pilates which is a fun, functional movement practice that she likes to describe as caveman Pilates mixed with child-like play, to create a fun and challenging workout. A kid at heart, Heather views Pilates and functional movement as a structured Playtime, and views the Pilates equipment as a big playground where we take a "recess from everyday tasks" and dial into our bodies, creating a safe space to learn and "Play Pilates" together with all the fun toys and props.
By piecing together various modalities, movement disciplines and meditation principles along with her in-depth study and obsession with Anatomy and Physiology, she has discovered a gentle, zero impact way to activate specific muscles while releasing chronically contracted ones. She has personally found relief from her chronic pain and restored freedom of movement thanks to these practices, and over the years has enjoyed sharing her knowledge to help countless people find relief from pain and discover new ways to move and live better in their bodies, and have a blast doing it!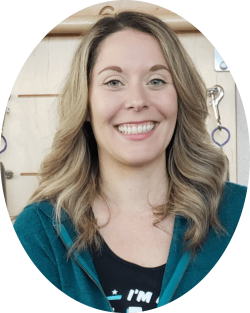 Nicole Kantz
Instructor
Nicole has a passion for health and wellness and a desire to make everything FUN! Having suffered from knee and back issues most of her adult life, she found it hard to keep to a workout routine that didn't leave her suffering from immense pain for days afterward. Through trying out various workout regimens, she discovered Pilates and found that her body could move, stretch, build strength and actually feel better after working out. Having grown up a mostly sedentary child, discovering a workout could make you feel good and be something enjoyable was absolutely mind blowing!
After 2 years of practicing Pilates in her own body, she was inspired to leave her career in marketing and embark on a journey toward becoming a certified Pilates Instructor. While completing the Balanced Body training she has immersed herself in the practice and works hard to create whole body workouts that support healthy and functional body movements.
Nicole was briefly an aspiring comedian, so don't be surprised if you are laughing throughout her class from a silly joke, funny fact or simply her playful spirit. She wants others to know that working out doesn't have to be a chore and wants her students to always look forward to coming to class.
A self-proclaimed "foodie", Nicole loves to cook with her husband or try out the newest restaurant in town. She also loves to travel and always looks forward to trying adventurous local cuisine (like that time she ate a termite in Belize!) Nicole has personally experienced the life changing effects of Pilates and hopes to help others live a pain-less life, too!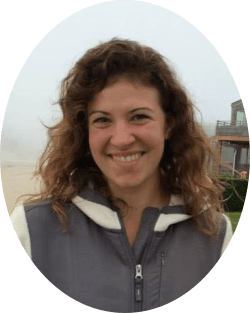 Krysti Davis
Instructor
Krysti moved from Olympia, WA to Sacramento to study kinesiology. During her studies she discovered Pilates. She completed her certification through Balanced Body University and is continuing a secondary certification through STOTT. She enjoys dissecting each exercise and focuses on proper technique to maximize the benefits for each student as an individual body and person. She understands that each body has its own needs and she works hard in each class to deliver.
With the hectic lifestyle of a college student, her personal Pilates practice has also helped keep her calm and focused in her daily life. Pilates helps her escape the wondering chaos of the modern world and experience the moment. Krysti is also an avid rock climber, loves hiking, weekend trips to SF and Tahoe and anything that involves the outdoors. She's also an anatomy nerd, scared of any and all sized spiders and enjoys her scotch straight up. And the big and most important requirement of being part of the Pilates Heartcore team- she loves Taquitos, Tostadas and Tacos! We are so lucky to have such an experienced, happy, lovely teacher as part of our Pilates family.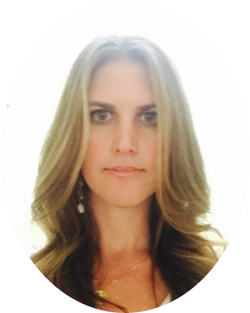 Diana O'Brian
Instructor
Diana O'Brian has been teaching Pilates for 8 years and is certified through Body Arts & Science International (BASI). She was a student-athlete at Loyola Marymount University where she obtained her Bachelors degree in Pre-Physical Therapy. While working at a physical therapy clinic Diana discovered Pilates. At the time, Diana was struggling with an autoimmune condition and Pilates was the only method of exercise she could do. Seeing her own need for a safe, gentle, yet challenging form of movement, as well as the patients need in the clinic, Diana decided to get certified. She loves helping people overcome their challenges and become comfortable and pain free in their bodies. Aside from Pilates, Diana also teaches yoga and barre classes. Passionate about health and wellbeing, she is a certified Reiki Master, Ayurvedic Heath Counselor, and Holistic Nutrition and Lifestyle Coach. Through the application of all these various trainings Diana has been able to heal herself of the autoimmune disease and is medication free. She hopes to inspire better health for her clients through a balanced mind, body, spirit approach.
In her free time Diana loves to spend time with her 3 legged pitbull and husband, cook new recipes, and spend time in nature, especially at the ocean!