Our CORE Mission
To feel good- inside and out.

Welcome to Pilates HeartcoreTM!  We offer apparatus Pilates sessions in an intimate training setting.  Our aim is to create a community focused on identifying goals, consistent growth and long term change.  We are not a gym.  We do not look or smell like a gym.  But we will work your body hard and help you bridge the divide between the life you want to lead and knowing how to live it.
You don't have to be fit to start with us.  You can be out of shape.  Maybe you just had a baby.  You could be a runner who is constantly tight.  You could be feeling stiff and older than your years.  You could have an office job that is wrecking your body.  Pilates Heartcore is a place for people who are determined to improve their health and wellness.  We provide instruction based on your personal goals and commitment, but we strive to form one strong community.
Pilates using the Reformer or Exo chair can look scary and intimidating.  Don't worry!  It's super fun and feels less like exercise and more like play.  Plus it builds strength, reduces aches, stretches and levels you out like nothing else.  If you have never tried it, we challenge you to experience why some many people are hooked!
Our Philosophy
We believe that Strength- in mind, body and spirit- takes time.  It takes self-discipline and a commitment to showing up regularly.  We will be there with you to make sure you push yourself every time.  Just get here and the rest, we will do together.
We believe we are all unique- and what works for your friend may not work for you.  Pilates is about the mind and body connection and each person's journey will be different.  We will help you discover more about yourself and what you are capable of achieving.  Our stories are all different but we all start at the same place.
Pilates is not a fad.  We are not a quick fix.  If you are looking for an easy solution to your health and fitness, we are not it.  We are not a 6 week cleanse- drop 20 pounds program.  We believe (and have seen the results in our own bodies and clients' bodies) that true strength and fitness require a strong foundation.  We believe in the Pilates Principles.  We believe steady progress takes you to the best version of you.  It's not about killing yourself so you can't move the next day, but about challenging your body regularly to be fit enough to better enjoy your life.
Pilates HeartcoreTM is here for YOU.  When you become part of our community, you belong.  We are a team and we believe in you, your goals and we will listen to your needs.  We are not here to stand at the front of the room and yell at you to do one more set.  We are by your side, assisting you through a move, offering modifications, counting you down, laughing with you and dedicating ourselves to your success.
We are serious about your body.  Pilates HeartcoreTM operates on a closed class philosophy for Reformer/apparatus classes. You must first take our Basics class prior to any other group classes utilizing the Reformer.  This is not to exclude anyone, but rather to inclusively ensure that you are armed with knowledge to be successful when you do start taking Reformer classes.  We also highly recommend a one on one session with us prior to taking any classes so we can get to know you.  We WANT to know you!
So, do you want to feel better, look better, be calmer and live life with purpose?  We welcome you! Check out our schedule and offerings and let us know if you have any questions!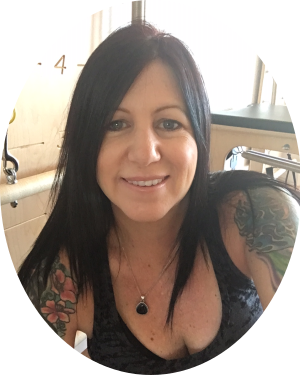 Katie Prior
Owner & Instructor
Katie spent 24 years in Sales positions sitting at a desk. She has always been an avid fitness goer- spending many hours logged at the gym doing kickboxing, strength training, Zumba, cycle classes and yoga. Pilates came to her at a time when she was dealing with chronic back pain and a general tightness and inflexibility of her body. This pain was directly related to her posture from being a desk worker.
Even with all the exercise, massage and physical therapy she was doing, something wasn't working. After discovering Pilates and committing herself to 3 sessions a week, she was rewarded with a new way to feel good in her body and to be pain free. This personal experience opened her eyes to the sincere benefits of Pilates. It became her desire to help other people feel as good as she feels. Katie decided to go through the Balanced Body comprehensive Pilates Instructor certification program. In 2016 she got up the nerve to quit her full time job to open a home studio. In 2017 she opened the retail studio and hired more instructors to help her share Pilates with Sacramento!
As a mother of two young , full of energy boys, she understands how important a strong and healthy body is to your happiness and ability to succeed in all aspects of your life. And on top of all the benefits of Pilates, it's FUN! The part she likes most about it is that it doesn't feel like a typical boring, same thing every time, drag yourself to get it over with work out.
Classes with Katie are never the same routine and she will always make sure you leave feeling stronger, calmer and more connected to your body than when you walked in. So come "get heartcore" and see why Pilates done in a fun and friendly studio where we don't take ourselves too seriously will become a sweet addiction you can't get enough of.